Looking forward to make some delicious for your birthday boy or girl? or maybe for your parents? Well, here is something yummy! A Peanut Butter Banana Cake with Whipped Ganache! It is filled and frosted with peanut butter buttercream and decorated with whipped chocolate ganache.
This amazing cake could become your most loved and favorite flavor ever! Let's not waste your time and let you know how you can make it?
INGREDIENTS
3 cups all-purpose flour
1 tsp baking soda
1/2 tsp salt
1 1/2 cups bananas, mashed (about 4 medium)
1/2 cup butter, room temp
1/4 cup vegetable oil
1 1/4 cup sugar
1/2 cup brown sugar
3 eggs
1 tsp vanilla
1 1/2 cup buttermilk
PEANUT BUTTER BUTTERCREAM
1 cup butter
1 cup shortening
1 (16-18 oz) container peanut butter
5 cups powdered sugar
WHIPPED GANACHE
1 package semi-sweet chocolate chips
1 cup heavy whipping cream
INSTRUCTIONS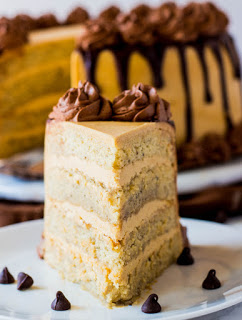 Preheat oven to 325.
Line the bottoms of 2 9″ cake pans with parchment paper and spray pans with non-stick cooking spray, set aside.
In medium bowl mix together your flour, baking soda and salt, set aside.
In bowl cream together your butter, oil, sugar and brown sugar until light and fluffy.
Mix in eggs 1 at a time, combining well after each addition.
Stir in your vanilla and bananas until combined.
Starting with flour alternate adding your flour and buttermilk into your wet mixture until everything is combined.
Pour batter evenly into baking pans and bake for about 50 minutes or until center is set
Remove from oven and let cool in pans for about 10 minutes before turning out onto cooling racks to cool completely.
Meanwhile to make your buttercream, in large bowl mix together your butter and shortening until fluffy.
Add your peanut butter and continue to mix until blended and creamy.
Adding 1 cup at a time mix in your powdered sugar until your reach your desired consistency.
To assemble your cake, split each of your cake layers in half using a cake leveler or serrated knife, add your bottom layer to a turntable and top with about 3/4 cup buttercream and smooth out the edges. Repeat for all layers
Once you place your top layer on pipe remaining frosting onto sides with a long flat ribbon tip and smooth out over sides and top.
Place in refrigerator to chill.
Meanwhile to make your ganache, place your chocolate in a heat proof bowl.
On stove top add your heavy cream to pan and heat until it just beings to boil, then remove and pour over your chocolate. Cover for about 5 minutes.
Remove top and stir your cream and chocolate together until its all melted and blended. Let sit for a few minutes to thicken a bit.
Remove cake from refrigerator and spoon a little of your ganache over the edges of your cake so it drips down the sides, place back in refrigerator.
Place your ganache in the refrigerator for about 30 minutes or until completely cool, once cooled remove and using a hand mixer start to whip your ganache until it becomes light and fluffy (abut 5 minutes.)
Place whipped ganache in piping bag fitted with a large start tip, remove cake from refrigerator once again and pipe desired design on cake.
We hope you enjoy this lavish cake with your beloved one's!
Tags : birthday cakes, banana cake, cake recipe, cake for birthday