He manages the whole family, maintains every relation, takes care of you and your child and your parents too! He deserves some love and special treat on his birthday! Cook his favorite food and also give him some cute gifts that he would adore and also send him some wishes.
Birthday Wishes for Husband
Dear husband, that time of the year has come again and I want to truly wish you all the best in the coming year. You may be a year older but you are still the same man that I fell in love with years ago. Happy Birthday darling.
Baby as you reach another milestone in your life today I want you to know that I am happy to be by your side as your wife. May the years ahead be filled with love and laughter and may you know that you are truly a wonderful husband to me. Happy Birthday darling.
Need more inspiration while writing and thinking about the best birthday messages for husband? Don't worry, we have something more. Just scroll down and enjoy more of our collection of birthday messages and greetings for your one and only husband.
Baby you are my special blessing and as you celebrate your birthday today I want you to know that forever you will be my number one man. I love you darling and wish you Happy Birthday.
Honey, this day means so much to me as it does to you, for on this day some years ago God graced this world with your presence. Ever since that time the world has been a wonderful place and especially to me. I love you and send you my warmest birthday wishes.
Thank you for being such a great husband to me, For loving and understanding me endlessly Happy Birthday to you, my honey!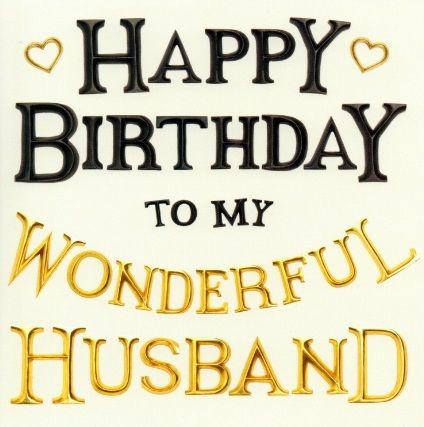 I am glad I got the dibs on you for you are a rare species and probably the last of the world's best husbands. Baby I wish you Happy Birthday today.
Your birthday reminded me that you are getting old and grey but even if I had to choose all over again I would still choose you dear husband because let's face it, where would you ever get a wonderful wife like me? Happy Birthday darling.
Much as today is your birthday the children and I also hold it special because God brought you to earth one day like today. We are ever praying for your good health and success in everything you do for we love you so much. Happy Birthday to you.
Baby, I am blessed that you are my husband and the father of my children. I have marked this day as special for on it many years ago you came into this world and every day you make it a better place for us to be in. The kids and I love you so much. Happy Birthday darling.
Happy Birthday to the world's greatest husband and father. You are our inspiration and our anchor, honey. This family is what it is because you are the head of it. We love you today and always.
Darling, no matter how many birthdays you celebrate you are still the man that I fell in love with and married, and God blessed me to have children with. You will always be loved by us. Happy Birthday!
On this special day I want to wish you a Happy Birthday and let you know that if I had to do it all over again I wouldn't change a single thing.
Birthday Message for Husband
Life may be tough but with you, it's one awesome ride. Happy birthday.
Let's take a selfie together because I want to post in on Facebook and show everyone the person whose smile makes my life tick. Happy birthday.
The secret to a happy marriage can be encapsulated in just four words – A Husband Like You. Happy birthday.
After I got married to you, I realized that real men don't wear a shining armor, they become their wives' shining armor. Happy birthday to my knight.
Just look at how far we've come. I don't know what the future holds, but as long as we're together I know it'll be awesome. Happy birthday.
I fell in love with you, not because of what I found in you, but because of what you helped me find inside my heart. Happy birthday.
Life is, nothing short of a treat. Because I have, a husband who is so sweet. Even after all these years, he sweeps me of my feet. His hugs and kisses are what, make my heart beat. Happy birthday.
I am not getting complacent with you. It's just that I am comfortable baring my soul and sharing every bit of my life with you, without any hang-ups. Happy birthday.
YOU are the reason MY birthdays are worth celebrating. Happy birthday.
Whether it is twenty-four hours a day, seven days a week, thirty days a month or twelve months a year – one lifetime will never be enough to drool over a man as handsome as you. Happy birthday.
Happy birthday to my pillar of support, anchor in life, biggest fan, loyal supporter, emotional healer, eye candy and most important of all – my loving husband. I love you.
My married life is like a beautiful symphony orchestra, conducted by the man who I lovingly call my HUSBAND. Happy birthday.
As a couple, we are inseparable. As a pair, we are sizzling hot. As parents, we are so cool. My dear husband, I love you a lot. Happy birthday.
The words I, ME and YOU ceased to matter when life became about US. Happy birthday.
I love my life because my day begins and ends in the arms of a handsome and caring husband like you. Happy birthday.
Wine may get sour with age but you, are getting spicier. Happy birthday handsome.
Deep down in my heart I know that I can trust you blindly. But you taught me something more important – which is to trust myself blindly. Happy birthday.
I never knew what SOULMATE meant until I met you – the man whose heart spoke to mine and whose soul connected with mine. Happy birthday.
Whoever said that all men were the same obviously never met you. Happy birthday hubby.
If anyone compliments me for being a good professional, good mother or good wife, I tell them the main reason behind my success – a good husband. Happy birthday.
Happy birthday to the man who never stopped me from believing in my dreams and more importantly, taught me how to live my dreams.
I don't look into the mirror to feel attractive or sexy. I just look into your eyes. Happy birthday to the hubby who makes me feel like a million dollars.
As a lover, you are my soul mate. As a friend, you are my BFF. As my husband, you are my eye candy. As my life partner, you are the captain of my ship. Happy birthday.
There is a common saying that all mothers want their daughters to have husbands better than their own. On your birthday I want to proudly say that I will never think that way as you are the best husband a wife could ever have. I only wish that our child gets a life partner as good as you are. Happy birthday honey.
Now that you have grown a year older, I hope you will become wiser and more mature too. Happy birthday.
I am celebrating your birthday not just because you are my husband. I am celebrating your birthday because you make my life a celebration every day. Happy birthday.
I disagree with the phrase 'live life like there's no tomorrow'. Being in love with you has made me believe in 'live is perfect, and there's more happiness in store'. Happy birthday.
Checkout one of these Long Birthday Messages for Husband
Dear hubby,
First of all, I'm so thankful to your parents! Only because of them I've got a fantastic life partner, soul mate and a person who understands me and is always there for me..
On this special occasion of your born day, I've got some gifts for you, but still I just can't compare them with the love and care you've got for me. From the day you entered in my life, lots of things have changed and you always try to make every moment special for me, all your efforts and your passion for me makes me fall in love with you again and again..
Wish you a Very Happy Birthday Husband, may lord fulfill all your wishes and you stay by my side for the whole long life and I would love to have you as my hubby in next births too..
Aah now don't say I'm so selfish haha! I love you so much darling..